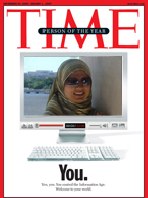 UPDATED
It's fitting, and somewhat overdue, that Time Magazine's person of the year is "You" — as in all of us.
Don't get me wrong here. The cover story and the supporting articles are a terrific bunch of pieces. They capture well what has been happening for the past few years in the democratization of media.
But there's a tiny bit of reality in the fact that the cover didn't say "Us" instead of "You" — in part because it was a vestige of the magazine's traditional, royal thinking wherein they told us everything they thought we needed to know (and what to think about it). Our role: We bought it or didn't.
If the people of the year are all of you out there somewhere, that leaves "we the deciders of what is news" still inside the gates.
The world has changed, as the magazine's writers, photographers, artists and editors captured in this issue. Here's the issue: It's changed even more than they may want to concede deep down in their essentially top-down, corporate gut.
I look forward to the day when Time and other traditional magazines fully embrace us when it comes to the journalism. This is coming, and faster than anyone (including me) would have predicted just a year or two ago. It can't come fast enough, because the time is short to make the transition.
Anyway, excellent work from Time.
UPDATE: See Jeff Jarvis' related thoughts, which he posted earlier. Also, William Beutler says he predicted this would happen two months ago.